We Rent Budget, Midpoint, and Luxury Murray River Houseboats in Renmark for Your Holiday
Which of our eight Murray River houseboats in Renmark would you choose for your holiday? Spend a weekend or seven days river cruising through the beautiful countryside, spotting wildlife on the riverbanks and birds in the sky.
How Does Houseboat Hire in Renmark Work?
Call or send us a message and tell us how many berths you need as you enquire about available boats and dates. Our welcoming team will assist you with booking the perfectly peaceful, enjoyable, and relaxing break that you've been dreaming of for your next holiday.
The executive eight-to-twelve-berth Scoundrel Houseboat has two lounges, four bedrooms, two sofa beds, two bathrooms, and two toilets. You have access to a 106cm Plasma TV and DVD player in the front lounge, and the rear lounge has a TV and sound system—you can even convert the lounge into two extra bedrooms.

Our executive ten-to-twelve-berth Riverstar

Houseboat on the Murray River

is professionally appointed. Its spacious, comfortable, and modern design makes it perfect for large groups of friends or family. The Riverstar has five queen-size bedrooms with block-out blinds and a TV with DVD player in each room, of which four can zip apart to become singles. We supply continental quilts, pillows, and bath towels. The rear lounge includes a TV and DVD player and a high-quality sofa; you can transform the space into a sixth bedroom. The bedrooms have sliding glass doors and ducted reverse-cycle air conditioning, and the well-lit, spacious bathrooms offer heating for chilly nights and mornings.

The luxury Riverstar has a large living area, a shaded top deck and Esky, a spa, and a well-equipped gourmet kitchen with all the comforts, including a stove, microwave, dishwasher, washing machine, tumble drier, crockery, deep-freeze, eating utensils, cookware, and tea towels.
Check our features list for more information about what each boat contains. You don't need a driver's licence if you're over 18 and our staff will gladly give you the necessary training. Anchorage is available along the riverfront.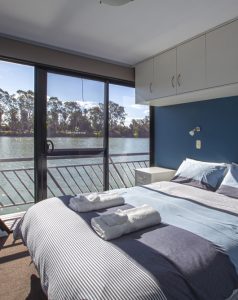 What Are the Benefits of Houseboat Hire in Renmark?
Renmark and Paringa are magnificent destinations in any season because of their year-round sunshine and dry climate. There are several things that you can do in the area during your Renmark houseboats cruise. 
Visit any of the region's galleries and wineries or explore billabongs and secluded creeks in a canoe. Go on a picnic, browse the fruit stalls, and view the many bloom varieties at Ruston's breath-taking rose garden.

Take in the spectacular view over the Whirlpool Corner cliffs, the river plains from Customs House, and the lookout tower on the Murtho road. Renmark is a handy place from which to travel to conservation parks such as the Bookmark Biosphere.

The Renmark area offers many interesting opportunities for daytrips, wining and dining, and walks. The

PS Industry,

which is one of only a few paddle steamers left from the industrial river trade days, launches on the first Sunday of each month. Take a conducted dinghy tour of Murray River's lagoons and creeks with Canoe the Riverland.

Come aboard your houseboat on the Murray. You can stop off at different towns for shopping, dining, sightseeing, or skiing, or simply relax on the fully carpeted deck to enjoy this unique and wonderful part of the world. 
Why You Should Use Renmark Houseboats
We started our business twenty years ago, which makes our Murray River houseboats part of a long house-boating tradition in South Australia. We put all our knowledge and experience into providing our guests with the best possible experiences. Contact us for one of the best vacations or weekends ever.