Houseboat Holidays on the Murray River Provide Tranquillity and Natural Delight
Our family business has been running houseboat holidays on the Murray River for 20 years. Discover our budget, middle-of-the-road, and luxury options.
Tips Regarding Houseboat Holidays in SA
We have eight houseboats of different sizes available, and you can reserve between two and twelve berths. The boat size depends on the number of people in your party.
Explore the approximately 120 kilometres of the river beyond Renmark to the NSW border, where birds and wildlife thrive and the countryside changes frequently. 

You will often see curious koalas, emus, kangaroos and, now and then towards dusk, a goanna. You may catch a sizeable golden perch near fallen trees if you enjoy fishing.

Ask our approachable staff for exciting areas that are not well-known or study the River Murray charts on your boat.
Enquire about our dingy derbies and receive steering training from our team if you're older than 18—you don't need a driver's licence to operate our houseboats.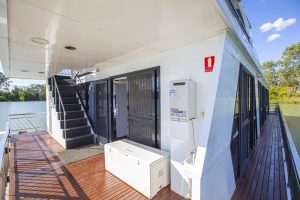 What You Can Expect from Renmark Regarding Murray River Houseboats in South Australia
You can expect professional, friendly service from us and magnificent beauty from the Murray River where we operate. 
Our two-to-four-berth Buralga houseboat has two bedrooms, one bathroom, a toilet, and an enclosed front deck for child security. It's perfect for honeymooners and small crews. It contains a turbo gas barbeque, gas stove, oven, washing machine, microwave, freezer, CD player, radio, and a colour TV with DVD player, and it is fully air-conditioned. We supply both hot and drinking water, all required bed linens and towels, an ironing board, an ice chest, eating utensils, a generator, safety equipment, and more.

The Kiwi Oz is a two-to-eight-berth boat with four bedrooms, two bathrooms, and two toilets. Apart from the necessities that we've described above, the Kiwi Oz has two colour LCD TVs, two gas fridge freezers, two hooded gas barbeques, a Nespresso coffee pod machine, and a gas heater.

Check our features list

for more information.

Why not stop at towns along the riverbank for some chocolate, a coffee, or a glass of wine, or to do some shopping or take a walk along a trail? If that's too active for your holiday pace, you can simply pause at a white sandbar so that the children can explore while you fish or hang out on the deck while enjoying your favourite music and watching the pelicans. Listen to the kookaburras and watch the kites in the sky or the grazing kangaroos. Sit back to view the sunset and, later on, the star-filled skies with good company and a drink in your hand.
Note that we can provide you with a ski instructor if a sedentary pace is not what you're looking for on your next holiday.
About Renmark Houseboats
We furnish pleasurable, leisurely, and distinctive experiences that you will want to repeat. Our houseboats in South Australia make it possible for a couple, a few good friends, or the whole family to enjoy a wonderful holiday. Contact us to get started.