Renmark Houseboats can provide a holiday for all the family to enjoy, the options are endless on your Murray River "Kiwi-Oz" houseboat holiday.
It can be as quiet and peaceful as you wish or, if you prefer fast and furious, we can provide a boat and instructor and you can learn to ski.
You can stop off at most of the towns along the river, where shopping and a freshly-brewed coffee are just a short, easy walk from the river. Walk the walking trails; visit a wetland; meet the friendly locals; maybe even taste some wines, chocolates or other local delights.
If that all sounds a bit hectic, you could just relax on the top deck, play your favourite music and watch the pelicans gliding in the thermals; or you could stop at one of the many white sandbars along the broad, tranquil stretches of the river – wonderful areas for the kids to play and for fishers to throw a line.
As you motor along, you will hear kookaburras laughing and the whistling of kites as they soar high over the magnificent river red-gums. You may even see kangaroos nibbling at the grasses growing beside the river. As night approaches, prepare the food for the barbeque, fill the wine glasses and watch as the setting sun turn the cliffs a vibrant orange colour.
After dark, turn the music down, refill the wine glasses and wonder as the magical night skies – far away from city lights – tell their own story.
Features
2x Colour LCD TV
DVD/CD Player
2x Gas Fridge Freezer
Full Size (4 burner) Gas Stove and Oven
2x Hooded Gas BBQ
Nespresso Coffee Pod Machine
Microwave
Dishwasher
Cooking, Crockery, Cutlery and Glasses Supplied
Fresh Drinking Water
2x Fully Serviced Bathrooms
2x Toilets
Iron and Ironing Board
Vacuum Cleaner
Air Conditioner
Gas Heater
Bed Linen and Tea Towels
Bath Towels Provided
One Blanket per Bed
1 Pillow per Person
Child Safety Railing
Outdoor Furniture
Ice Chest
Carpeted Top Deck with Awning
Swim Deck
River Charts
All DMH Safety Equipment
First Aid Kit
240v Generator for Appliances
Powered by 4 Stroke Economical 60hp Outboards Motors
Car Parking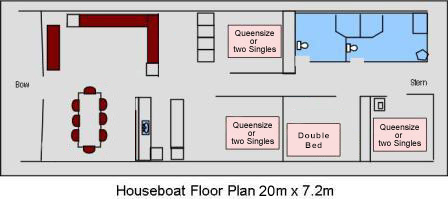 Hire Rates Kiwi Oz Houseboat
Public Holidays Long Weekends