Enjoy a Unique Vacation on our Luxury Houseboats on Murray River
Offering a private experience at your own pace, our luxury houseboats on Murray River are a sure way to unwind. Equipped with everything a family would need to stay entertained, our houseboats are a sure way to please the whole family. Breath-taking views, fishing and other activities ensure an exciting adventure, all while spending quality time with your friends and family.
What You Can Expect from Renmark Houseboats Regarding Murray River Cruises Self Drive
Choosing to spend your holiday on a houseboat on the Murray River has many advantages, but above all, we try and make it as convenient for you as possible so you can relax and enjoy your self-drive cruise.
No additional license or prior experience is required to drive our houseboats. All you will need is your valid driver's license, and we will provide basic training for you to start your self-drive cruise.

We have a fully equipped lockable compound for you to park your car and caravan while you enjoy your holiday for ease of convenience.

Quality family time is a promise on our houseboat trips. With so many activities to enjoy both on and off the boat, you'll be sure to create lasting memories for the entire family.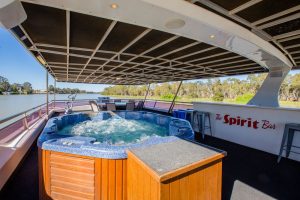 Things to do Near our Small Houseboat Hire on the Murray River
While there are endless activities to do on your houseboat, there are a few amenities that we recommend you visit while in town.
Woolshed brewery. Situated along the Murray River and offering a delicious range of locally made craft beer, the Woolshed Brewery is open to the public during the week. It can also host a variety of private events such as birthday parties and weddings.

Riverfront walk. Come and get your heart rate up with our picturesque walking (or biking) trail along the riverfront. This 5km trail shares a wealth of historical information on the town of Renmark in the spirit of exploration.

Dinghy tours. If a little adrenaline is what you're after then join a guided tour exploring the backwaters of the Murray River, this is a sure way to discover the most scenic parts of the river.
Fun Facts about Houseboats in Renmark
Renmark was the first-ever town to implement houseboats on the Murray River and is well-known for offering a range of houseboats for hire varying in size and price. Due to the abundant activities available, Renmark has secured itself as a popular travel destination for locals as well as tourists. The Murray River is known for its scenic views and curious wildlife, and how better than to experience that than from the comfort of your very own private houseboat?
Hiring a small houseboat from Renmark gives you the chance to escape from the busy city life, and remind you what our beautiful country has to offer. With our dry climate and year-round sunshine, Renmark is the perfect getaway for any time of the year.
To book your next houseboat vacation, contact us at your earliest convenience.